Manchester United legend Paul Scholes has left his position as manager of Oldham Athletic with immediate effect, despite only joining barely a month before (BBC Sport).
The former midfielder joined his boyhood club in February and started his management career in scintillating fashion with a 4-1 win over Yeovil at home.
However since his dream start as manager of Latics, the 11 time Premier League winner has struggled to inspire the League 2 side. Scholes managed just 7 games with the side, with victory over Yeovil being the only one during his short stint with the club.
Other than that, 3 draws and 3 losses for Oldham has left them in 14th place in League 2, comfortably safe from relegation, but 9 points off the play-off places.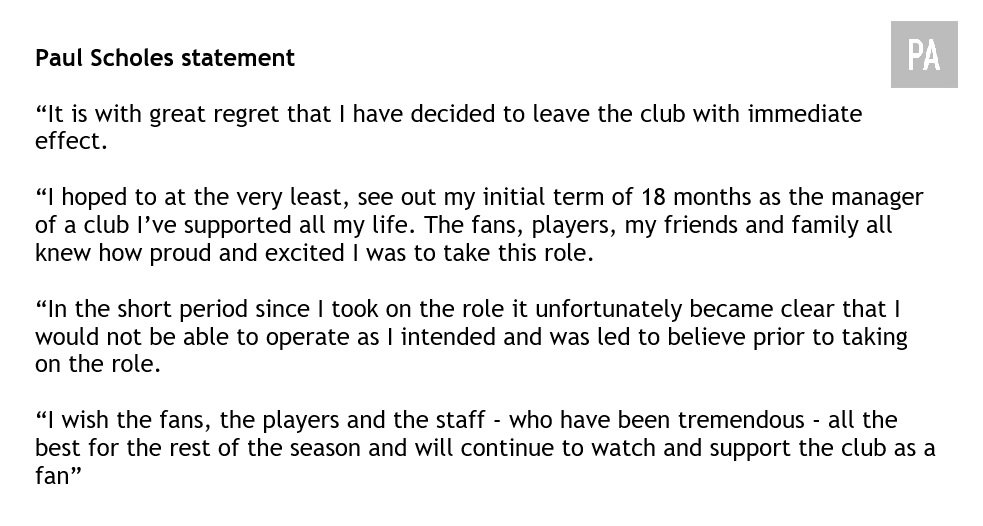 Scholes isn't the only successful former player to take up a job in management after an illustrious playing career and struggled to succeed in the dugout:
Former England and United teammate Gary Neville failed to last longer than 4 months as manager of Valencia, despite showing countless times as a pundit he analyses the game well.
Arsenal legend Thierry Henry was appointed manager of Monaco yet also struggled to improve Monaco, in fact he left them worse off.
Follow us on Twitter @TasteofFtbl for more articles about the beautiful game.