When it comes to Welsh football legends, the likes of Gareth Bale and Ian Rush spring to mind. However, no one even mentions football league veteran, Robert Earnshaw.
The Welshman retired in 2015 at the Vancouver Whitecaps after an illustrious career that spanned 17 years and consisted of 183 professional goals. He gained the reputation of a journeyman after playing for 12 different clubs in 5 different countries, yet although this taints the legacy of most footballers due to a lack of loyalty, Earnshaw has remained a respected figure. He holds a unique record as the only player to have scored a hat-trick in the Premier League, all three divisions of the English Football League, the League Cup, the FA Cup, and for his country in an international match.
Although many believe his stints at Cardiff showcased the finest seasons of his career, his season at Nottingham Forest in 2009/10 was perhaps the best year of his career. His second season at the City Ground created memories which are still fresh in the minds of Reds fans to this day. Despite Earnshaw only being at Forest for 3 years, the fact some Forest fans regard him as their favourite player of all time is a testament to his quality during this period. Here's how Wales' seventh highest all time scorer almost propelled Nottingham Forest to English football's top flight:
Earnshaw was fresh off the back of scoring 17 goals in 40 appearances in the 2008/09 season. His impressive form in his debut season helped Forest avoid relegation, quickly making him a fan favourite. Forest's objective at the beginning of the season was stability after a shaky previous campaign and perhaps at the very most a Top 10 finish. However, Robert Earnshaw and Radosław Majewski had other ideas.
After nothing worth noting in the first five games of the season, Earnshaw was off the mark with a goal in a 1-1 draw with Ipswich. Another 4 game blip followed for the Welshman before he scored the equaliser against Middlesborough in another 1-1 draw. However, it was after this that Earnshaw truly began his superb goalscoring season.
A goal the game after against Doncaster and a superb hattrick in a 5-1 demolition of Leicester began to show the Championship what the Derby County 'flop' was made of.  His fine form continued with goals against Coventry and Reading (both of which were victories for Forest) before a brace against QPR where he scored a pinpoint accurate freekick. By the end of January Earnshaw had 10 goals, one of highest in the Championship.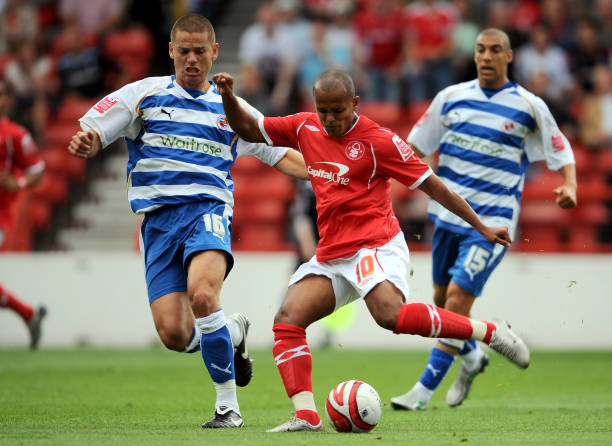 He continued to score goals against the likes of Sheffield United, Preston and Peterborough, which really began to make the City Ground faithful believe they could be returning to the top flight via the play-offs. Earnshaw had brought a different atmosphere to the City Ground alongside the rest of the Forest side. From relegation strugglers the season before, to favourites for playoff promotion, Robert Earnshaw's goals were the catalyst to this belief. His goals against Ipswich and Plymouth took his tally to 15 goals for the season, one of the more successful Forest striker seasons.
Forest finished in 3rd place behind automatically promoted Newcastle and West Brom. Their semi-final play off tie was against Blackpool. Earnshaw failed to score in the 1st leg where they lost 2-1 away. He turned up for the second leg though scoring a brace, including a thunderous strike into the roof of the net. However, it wasn't enough to prevent Blackpool going through 6-4 on aggregate. It was heartbreak for Forest fans at the time considering the renaissance they had under Billy Davies. Yet they were proud of how their relegation struggling team in 2008/09 became a favourite to go up in 2009/10.
The season of 2009/10 was one to remember for Nottingham Forest. A 19 game unbeaten run and a superb response to the disappointing previous season are memories amongst Reds fans in their stellar campaign. However the best memory was perhaps the devastating duo of Robert Earnshaw and Radosław Majewski. Earnshaw was the joint 6th highest goal scorer in league, whilst Majewski accumulated the 6th highest number of assists. Since 2009/10, the highest Forest have been able to finish (period) is 6th, emphasising how good the team was, in particular Earnshaw.
After a torrid spell at Derby County, Robert Earnshaw came to the City Ground for redemption and to remind everyone of his quality. He ended up scoring 43 goals in 111 appearances for the Reds, with 2009/10 being his best season in the Garibaldi jersey. The joy and belief he brought to the City Ground in that stunning season has been unmatchable to this day.